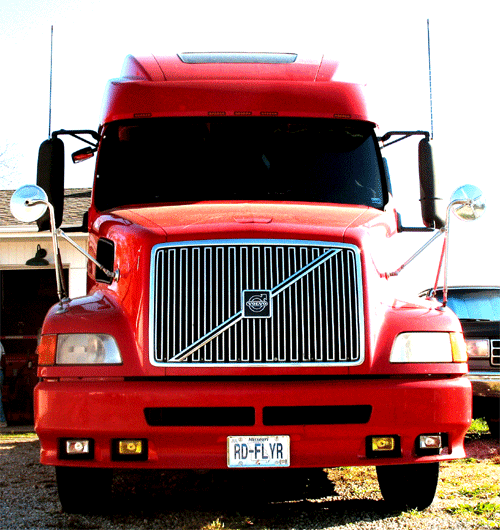 Start with one big red semi truck....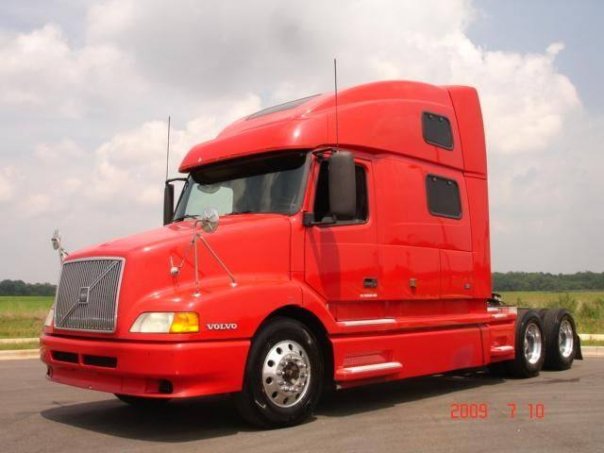 Some day it will look like this...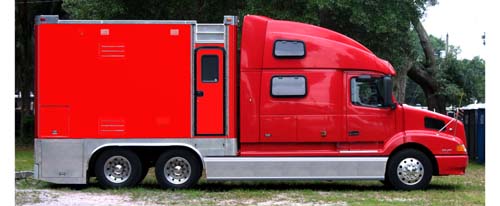 Status Update...
Looks like this so far....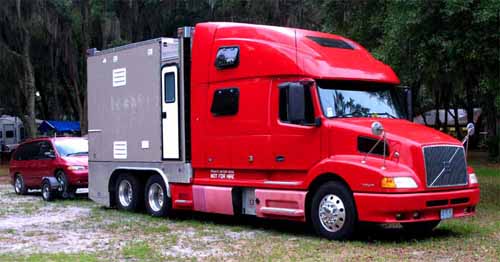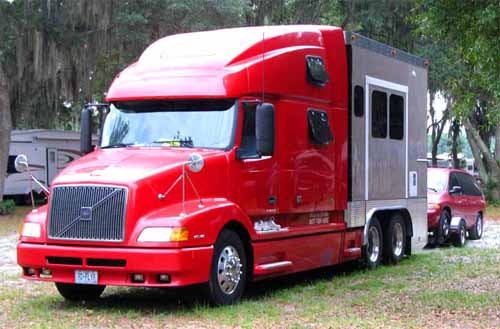 We have a large dinette slide that goes out 48"...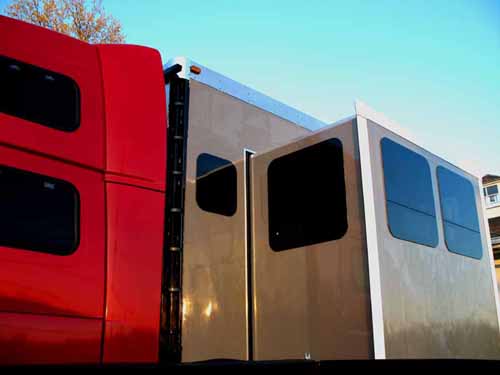 The queen size bed goes out the back 36", lots of storage all the way through under the bed...
(corners are not installed yet)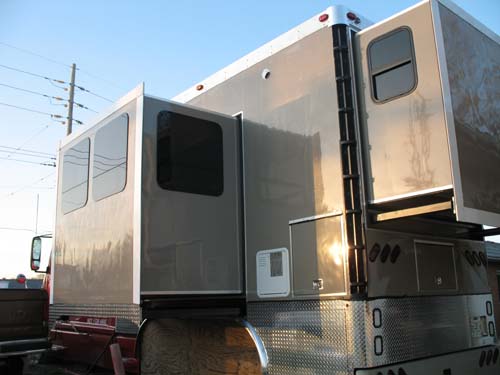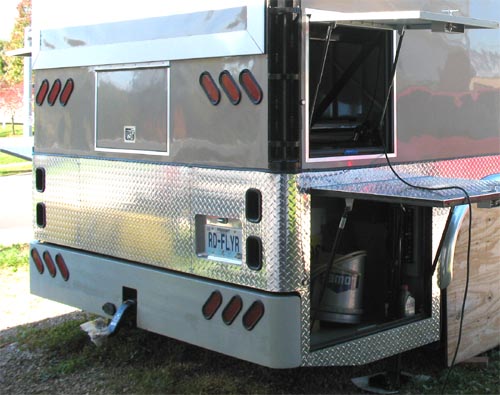 The roof has a center cockpit much like a yacht. There are bases for table stanchions as well as mounts for folding back rests. Inside the foot well are 3 screened opening yacht ports to provide fresh air and light over the galley as well as exhausting accumulated warm air in the RV. The roof is welded 3/16" aluminum diamond plate over 5/8" marine ply...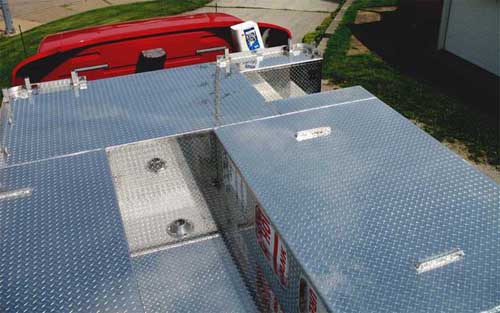 The stanchion bases are now hidden in a 4" high bulwark that surrounds the roof edge. More to come once the elevator is functional.
How else did you think we were going to get up there?
View from the galley about where the sink will be...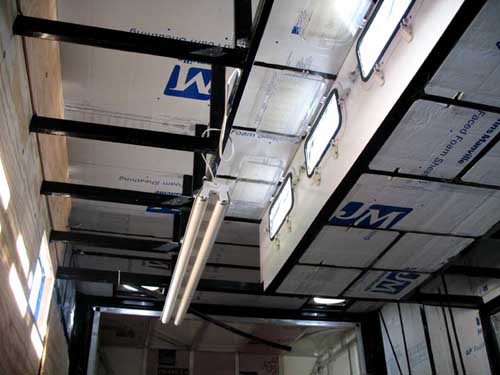 View from rear looking forward, dinette slide is out, just in front is area where bathroom will be built. Most of front is removable for Volvo cab service. Entire center section of floor is removable fore chassis service...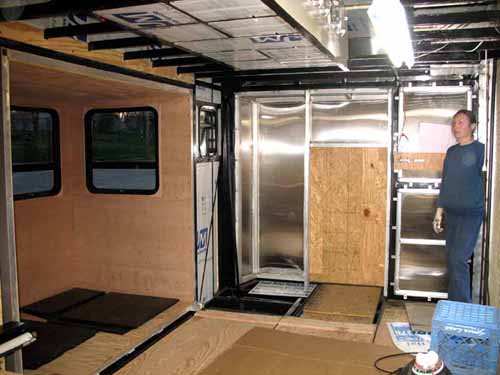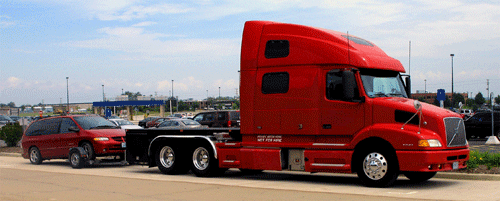 October 15, 20111 Bigfoot Levelers Bigfeet? How do you level a 20,000 pound (so far) motorhome? Why, you just push a button and stand back, thats how!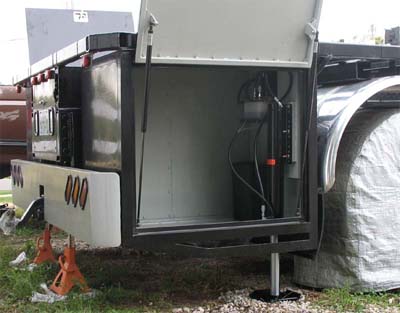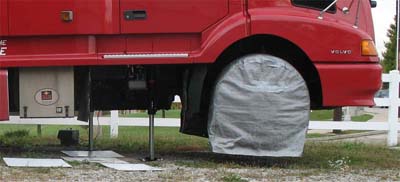 Bigfoot levelers can also be used for service lifts and lift the entire Volvo six inches off the ground.
August 3, 2010 Just got home from Oshkosh Airventure 2010
Read about our Oshkosh 2010 trip here
July 20, 2010 "Air Stairs" done, at least the manual version of them, later we will add the up/down and in/out actuators to do the job for us. In reality these are so easy to deploy and stow it is questionable why to add the expense and complication other than the "Wow Factor" that automation provides. Kudos to Henry Szmyt of the RV Escapes list for the inspiration.
The original "Air Stair" was popularized by the Boeing 737's and McD/D DC-9's though the concept goes back to piston aircraft as well.
Due to the height we will add a removable handrail. They served us well at the airshow and at one point I observed Randi and a friend Bob both on there carrying a 5 gallon water jug to refill our gravity feed camp sink. The urethane snubbers handled the load and the steps were stable. I should note that although they can easily handle the weight of two people we place a small import car scissors jack under the bottom stair to remove any springiness and give them a rock solid feel.
Update, go back to pictures above with diamond plate on sides, stairs hide behind compartment door. Also manually added stability jack no longer needed. Telescoping stabilizers were fabricated from woodworkers sliding bar clamp components and articulated feet on ends. Works like a charm.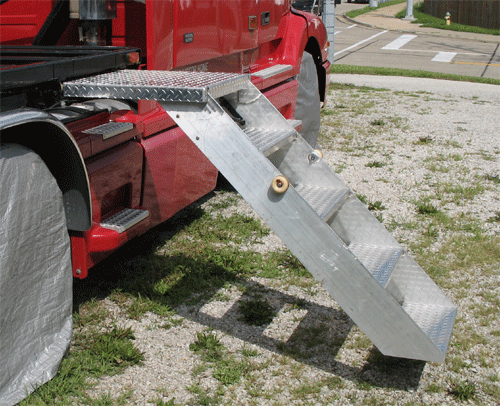 Stairs stowed for travel...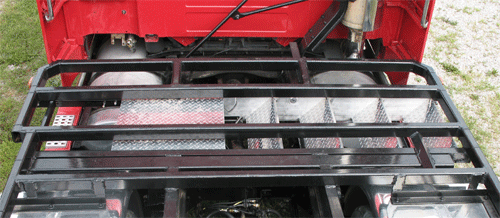 Other progress...
The two "basement" boxes are complete except waiting 13+ weeks for the gas struts to support the heavy doors. We calculated the force to hold the doors almost upright when open and go slightly over center when closed to prevent any rattles.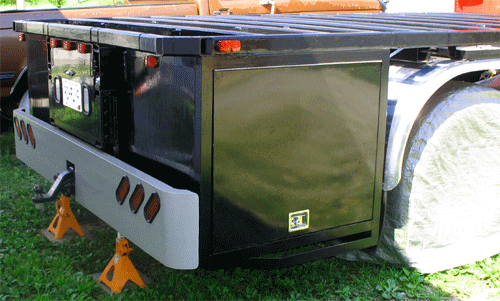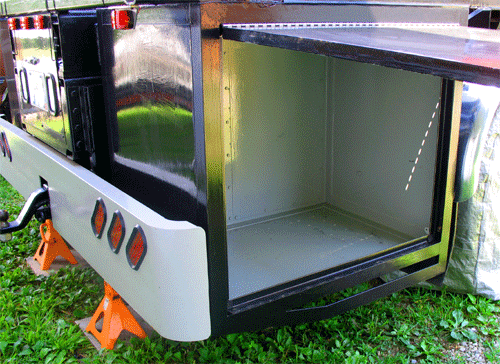 Something to note; the inside backs of the boxes are bolted in to give access to the rear chassis.
Overall progress view and the "Master Plan" again...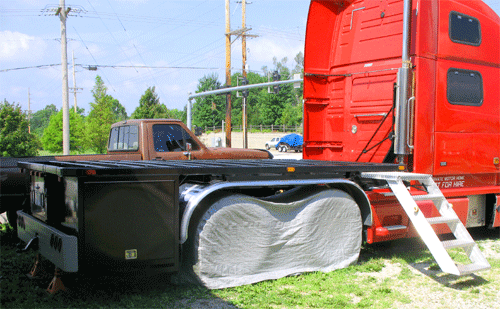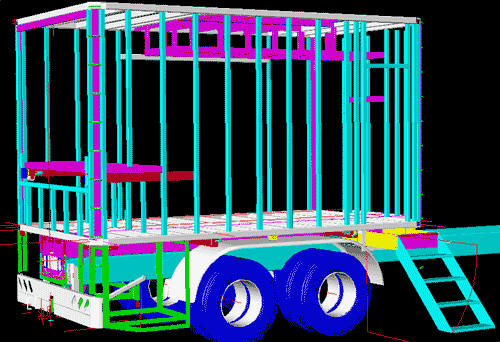 April 6, 2010 Click here to read about our Maiden Voyage
April 1, 2010 First test drive with minivan being towed behind on the Kar Kaddy SS car dolly, woo hoo! Tows like a dream.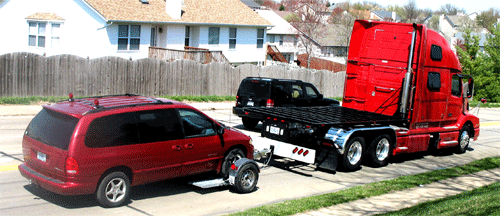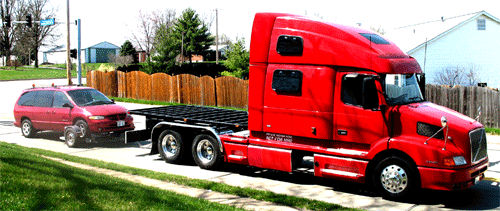 March 29, 2010 Bed is on, fenders, running lights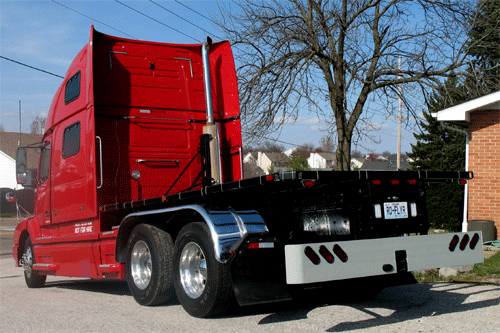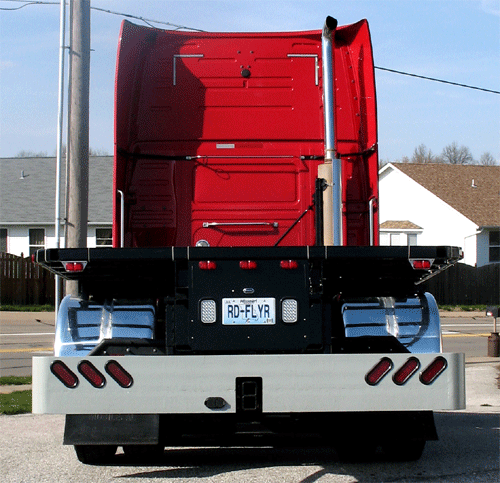 December 3, 2009 Where this is heading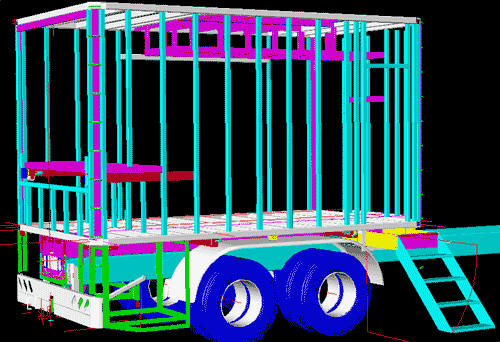 November 10, 2009 The flatbed is done!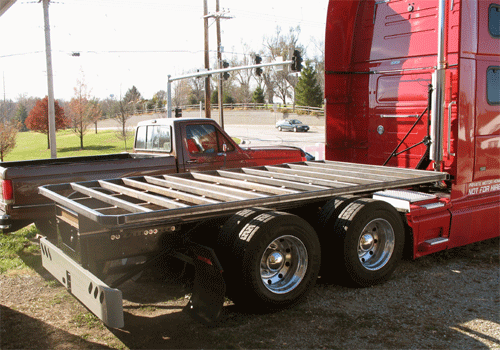 Notch in port side of the frame for the dinette slide out.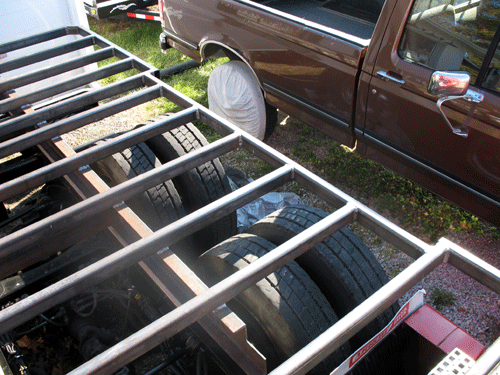 Bet you were wondering how we moved the flat bed around?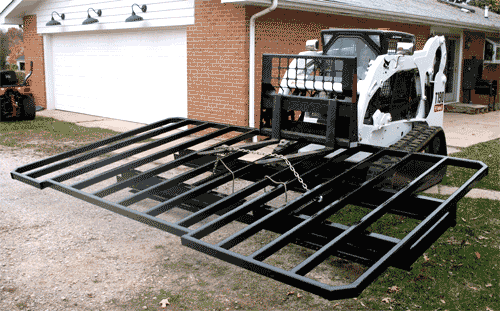 There's more to it to come, additional C-channels to support the forward part of it. There will be a 24" gap in the channel for the slide out stairs.
The 4x4 notches are for the dinette slide out guide tubes.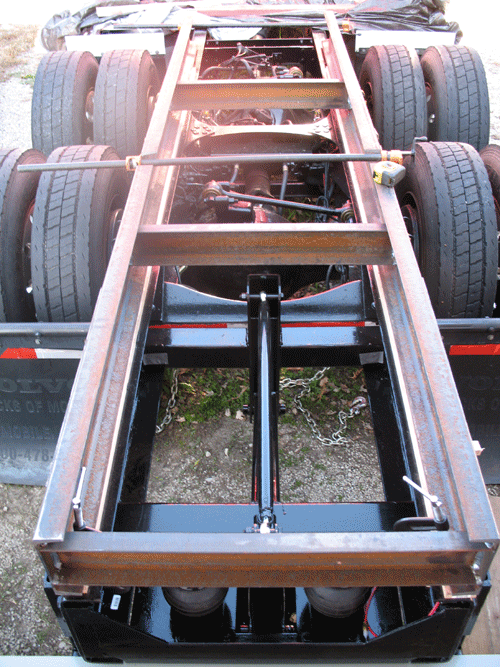 November 3, 2009 finally stretched 42.5" to OAL of 32 feet. New bumper built and hung, Air ride receiver hitch built and hung.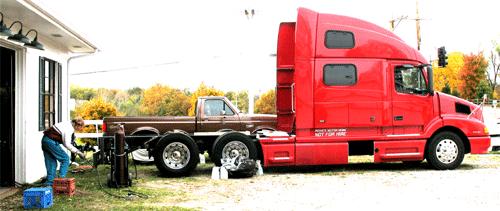 Raw bumper test fit
The two caps with bolts hanging out of them give access to the 2" diameter delrin rods that center the swinging hitch bar. The bolts sticking out allow tension and up to 4" of wear adjustment each side with a jam nut.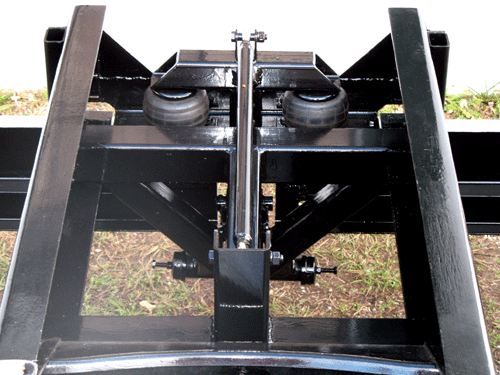 We call this the Bag-T. A pair of air bags support the receiver bar. Air not connected yet.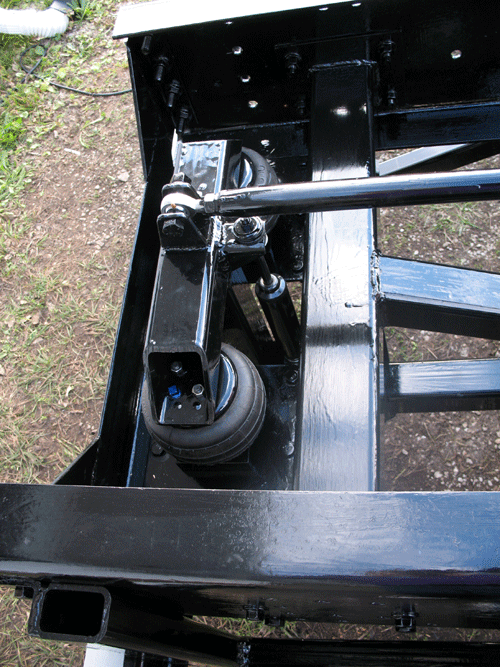 Waiting for the LED lights we will be picking up today.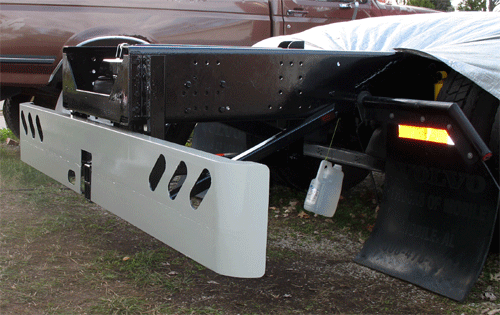 Raw bumper getting test fit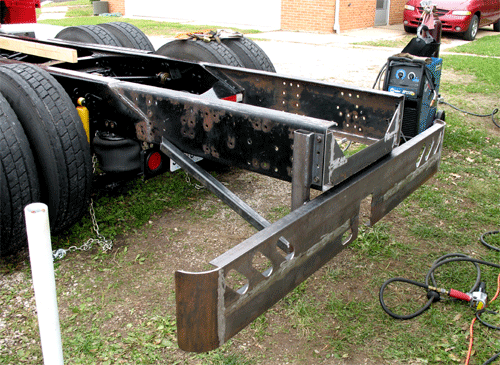 Bumper ends prior to grinding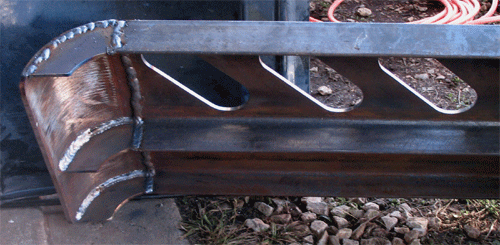 Machining the tail light holes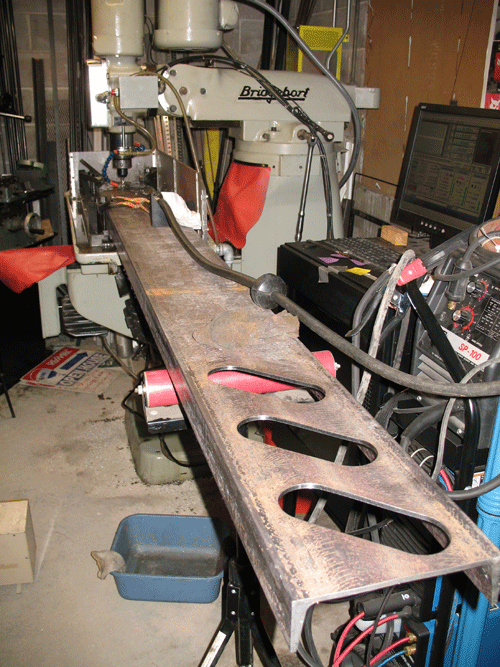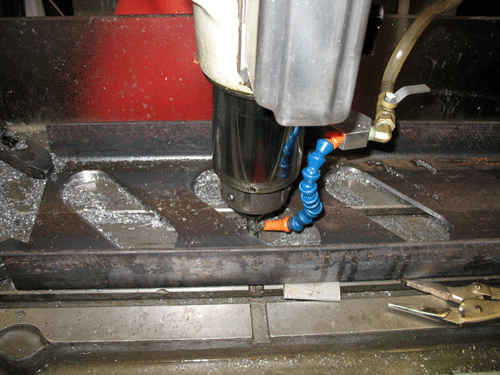 Fridge and microwave. Need updated picture with the OEM drawer and cabinet doors in place.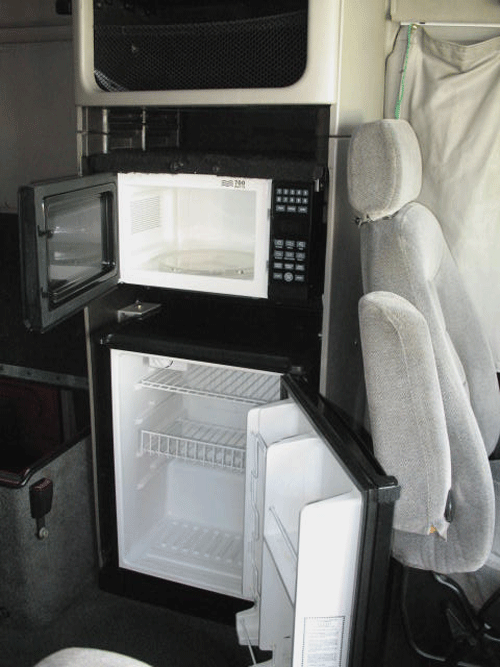 Got to add a potty in the closet as a requirement for the 4 of 6 features to be a legal motor home